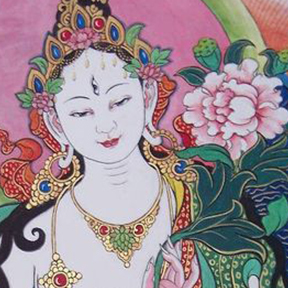 Date:
Wednesday 27 February 2019 (19:30 -21:00)

Location:
17 Lower Redland Road, Redland
Teacher :
Christine Jeffcutt
Coordinator :
Ross Chambers
Price

:
£
£5 members £8 non members
Why are women referred to as Dakinis? This talk briefly introduces the Dakini principle and how 2 ordinary western women followed their dreams and their paths and emerged as much loved role models and recognised teachers of Tibetan Buddhism.
In particular, we will look at the spiritual journeys of Pema Chodron and Tsultrim Allione and what drove them to become ordained trailblazers and role models of women's spirituality in today's world and in the context of Tibetan Buddhism.
Their stories and those of other women trailblazers can be found in the book by Michaela Hass entitled: Dakini Power: Twelve Extraordinary Women Shaping the Transmission of Tibetan Buddhism in the West.
The talk will be given by Christine Jeffcutt. £8 non members. £5 Members
If you are unable to attend physically, please join us via our Zoom link: Zoom: https://zoom.us/j/7727482977 . Payments can be transferred to our account:
Account Name: Bristol Shambhala Meditation Group
Sort Code: 16-58-10
Account Number: 20788193
Just turn up, no need to book. Tea and biscuits from 7pm.