ALL OUR MEETINGS (at the Body, Mind, Spirit centre) ARE CANCELLED UNTIL FURTHER NOTICE DUE TO THE CORONAVIRUS
However there will be meditation sessions online – see below.
Community Practice Evenings via Zoom link. To register see Upcoming Events on right of screen.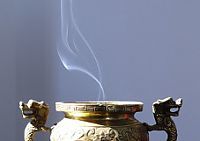 Thursdays 19.45 – 21.00
Join us via zoom for group practice to consist of guided meditation, a reading and discussion. All welcome.
To join, please register by clicking on Upcoming Programmes on right side of screen.
There is no charge for downloading zoom or for joining the meeting, however we are grateful for a donation to contribute towards running costs. Please contact Colin for the bank details. Thank you
…………………………………………………………………………………………………………………………………………..
If you are interested in learning about meditation and live near  Dorchester, Weymouth or Yeovil then why not consider popping along and joining us for a session.
Shambhala Buddhism is an international community of practitioners of meditation founded by the late Chogyam Trungpa Rinpoche.
The Dorchester Shambhala Buddhist Meditation Group offers weekly instruction and on-going guidance in the practice of sitting meditation in a group format. We act as a link to other centres and retreat facilities offering further in-depth opportunities for practice and study allowing people to further explore the path of meditation and how it relates to their life. We also have a small library of books on the subjects of meditation, Buddhism and Shambhala that are loaned out to regular attenders free of charge.
Weekly Meditation Evenings.  Now online only due to coronavirus
Contact:  Colin Tracy 
Tel: 01305 889476        email: [email protected]
If your have your own meditation cushion, stool or base mat please feel free to bring it as we have a limited number of cushions at this time. We have plenty of chairs should you wish to sit on one.
We are a member group of the Bristol and South West UK Shambhala Group. http://www.bristol.shambhala.info
Forthcoming Schedule